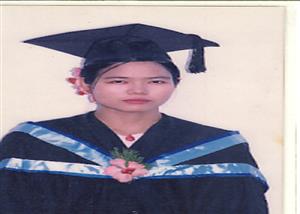 Daw Khin Hnin Lwin
Assistant Librarian
B.A (Myanmar),D.L.S
Former Heads
Name
Qualification
Daw Ni Win Zaw
D.L.S
Library Assistant Grade – 2 ( 1992 – 2000 )
History

On 30th January 1992 IOP ( Institute of Pharmacy ) was formally opened on Yangon University Campus, Thathon Street.
On 7 May 2001 the institute was moved to the present campus in waibargi ( North Okkalapa ).
On 10 June 2005 it was named " University of Pharmacy " instead of " Institute of Pharmacy ".
Department Objectives
To meet the relevent information in needs of teaching-staff, undergraduate and postgraduate student.
To provide the learning resources to pharmacy profession.
To make library resources available throught a quality and friendly services.
Opening Hours

The Library opens from 9:30 am to 5:00 pm from Manday to Friday.
Library is closed on Saturday, Sunday and Gazzetted holidays.
Location

Waibargi Myothit, North Okkalapa Township. The library is located on the second floor of main building.

Library Collections
Over 3000 Medical books.
CD Total - 170 CDs, includes medical topics.
All library materials are classified according to subjects in the Dewey Decimal Classification and medical
subject headings.